Facebook Rule Breakers - Are You Guilty?
If your company is on Facebook, make sure you do your homework and abide by their ever-changing page rules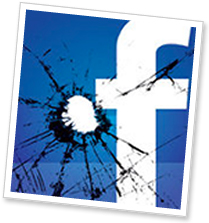 If your company is on Facebook, make sure you do your homework and abide by their ever-changing page rules; or you could be severely punished for failing to do so. Just ask kiwi brands Velvet Burger and Hell Pizza.

Velvet Burger, a gourmet burger bar started in Dunedin, built its loyal following of Facebook Fans to nearly 10,000. And just like 'that' they were "goneburger" when Facebook HQ deleted their page for breaking their rules.

You may have also heard Hell Pizza went the same way, losing its page and 20,000 fans along with it. Hell managed to get the page back through someone-who-knew-someone who worked at Facebook, but sadly, in most cases, if this happens to you, you'll be starting at the drawing board.

These were both New Zealand companies, who yes do have a large following of fans, but that won't stop Facebook from deleting your 200 or 800 strong fan page either. So how do you avoid the same fate? Well it pays to know the rules, and keep an eye on the rules too, as they can change as regularly as clockwork. And unfortunately for you, because you ticked a box agreeing to the terms and conditions, ignorance of the rules is no excuse.

As Facebook says: "We reserve the right to reject or remove Pages for any reason." And they're not kidding. Don't think you'll get a warning either! Poof! One day it could just be gone.

So what are the rules? There are Facebook rules that page admins break on a daily basis, included in the list of what you CANNOT do that follows are no doubt many rules you've been guilty of breaking.
Cover Photo
Previously, Facebook was pretty strict on not using your cover photo as an advertisement. However, since March 2013, they have eased up. Their wording has become a bit more lenient, which means more wriggle room for you!
The Rules
The cover page rule now states:

"All covers are public. This means that anyone who visits your Page will be able to see your cover. Covers can't be deceptive, misleading, or infringe on anyone else's copyright. You may not encourage people to upload your cover to their personal timelines."


So while you still cannot upload copyright, or encourage your followers to add your cover page to their own timeline, there is much more use for marketing your brand. Perfect, right?

So now, you could:
Include Calls to action in your cover photos
Advertise sales and competitions
Include links to specific offers e.g. coupons, sale items, supporters clubs
Ask people to like or comment on your page
Use a unique image that represents your Page. This might be a photo of a popular menu item, album artwork or a picture of people using your product. Be creative and experiment with images your audience responds well to.

Promotions
Facebook drastically changed its rules on promotions/contests lately. Now a business can run a promotion or contest on their own homepage without the use of a third party app.
The Rules
Promotions on Facebook must now include the following:

A complete release of Facebook by each entrant or participant.
Acknowledgment that the promotion is in no way sponsored, endorsed or administered by, or associated with, Facebook.

Promotions may be administered on Pages or within apps on Facebook. Personal Timelines must not be used to administer promotions (ex: "share on your Timeline to enter" or "share on your friend's Timeline to get additional entries" is not permitted).
Facebook also updated the rules around tagging. Now you cannot ask people to tag themselves in something that they are not in e.g. a product page.
What that means for contests and promotions, Facebook stated, is that it's fine to ask people to submit names of a new product in exchange for a chance to win a prize, for example, but not OK to ask people tag themselves in pictures of a new product in exchange for a chance to win a prize.
So what do these rules mean for you?
Can collect entries by having participants message the page
Can collect entries by having participants post/like/comment on the page/post

Cannot ask people to tag themselves in photos they are not in e.g. a product photo
Cannot ask people to share content on their timeline
Cannot ask people to share content on another persons timeline

Data Collection

If you collect content and information directly from users, you will need to make it clear that you (and not Facebook) are collecting it, and you will provide notice about and obtain user consent for your use of the content and information that you collect. Regardless of how you obtain content and information from users, you are responsible for securing all necessary permissions to reuse their content and information.

You cannot collect users' content or information, or otherwise access Facebook, using automated means (such as harvesting bots, robots, spiders, or scrapers) without Facebook's permission.

If you are developing applications for Facebook make sure you comply with Facebook Platform Policies.
Page Name
Page names and Facebook Web Addresses must accurately reflect Page content. Facebook may remove administrative rights or require you to change the Page name and Facebook Web Address for any Page that fails to meet this requirement.

Page names must:
not consist solely of generic terms (e.g., "beer" or "pizza");
use proper, grammatically correct capitalization and may not include all capitals, except for acronyms;
not include character symbols, such as excessive punctuation and trademark designations; and
not include superfluous descriptions or unnecessary qualifiers.
Facebook Ads
Before you run Facebook ads, have a careful read through the Facebook Advertising Guidelines here. There are so many that it deserves its own article.

You should also read through the guidelines for yourself and decide if you are breaking the rules; this post is just a guide and a mere tip of the iceberg.