Google Changes: Pandas and Penguins
Google makes, on average, about 500 changes to its search engine algorithms each year.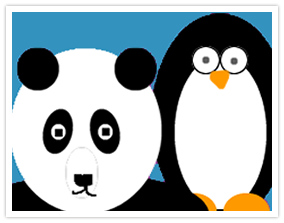 Google makes, on average, about 500 changes to its search engine algorithms each year. Google do this to improve the quality of search results. They started making big, noticeable changes back in 2011 with the Panda algorithm and again in 2012 with the Penguin algorithm, in an effort to punish those that were cheating the SEO system to get their results to the top of the page. Read on to find out more about Panda, Penguin and what it means for SEO.
How Google works
Google basically has an automated system that searches the internet looking for new websites and updated content through links from other websites already known to Google. Once it finds a new website or content it sends the information back to its datacentre where it is stored (cached).
Google uses a very complex formula or algorithm to calculate the relevancy and the quality of a web page to a user's search query. Read more about how Google works.
This formula uses many factors to help calculate the relevancy and quality of a web page, including and not limited to:
Keywords found in the content of the page
The headings
Links on the page
Hidden meta data found in the code of the page
External links that link to the page
Google awards ranking for a page based on how often the keywords appear, how prominent they are on the page and the location of the keywords on the page.
Therefore, the more focused you are on a certain topic, the better you will rank, as Google will believe that you are an expert on the topic.
How Panda and Penguin have shook things up
Panda was designed to weed out the bad sites from the good to improve search results. "Content Farms" are pages that are overly optimised that offer little value to the searcher. They are merely pages of content with keywords that are designed to attract traffic so they can use those page views to generate advertising revenue. Duplicate content is also penalised as it is seen to offer little value to the searcher so the pages appear low down in the search rankings.
Top Tip – If you legitimately offer duplicate content – for example have multiple sites for your business – then you can use rel=canonical to point back to the original content. Ask us about how to do this with your Zeald site.
Penguin was more focused on punishing sites that were abusing links to gain search engine rankings. Google's idea behind Penguin is that it wanted people to focus more on creating great web content rather than optimisation. People who paid for links from low quality link directories, exchanges and other sites would more than likely have noticed a drop in their ranking. What this means is you want to have really good links to your site from other quality sites, you can do this by having great quality content that is worth sharing.
You also want to use different anchor text linking to your site (the words that hyperlink). The anchor text of a back link tells Google what the website is about. So it is/was common practice to make a keyword the hyperlink. However if there are an abnormal number of identical anchor texts pointing to a site then you will be penalised. Penguin wants you to use more natural SEO. For example if you are always using identical keywords to link to your site then try to mix it up by using different words or word clusters that mean similar things and also non-targeted words that would be a natural link such as "click here."
Based on the data that showed sites with 60% or more of their site with keyword anchor text were penalised; a general rule to avoid the Penguin penalty could be the following:
• 60% of backlinks should be URL based or non-keyword anchor texts like "click here"
• 30% broad match or partial keyword and rephrased anchor texts
• Only 10% exact match keyword anchor texts
Other things to be aware of that affect your ranking.
Keep your bounce rates low. This means when someone searches using a keyword and clicks on your site only to quickly click back to Google sends a signal to Google that you are not relevant for their search. To reduce bounce rates some of the things you can do is; keep your site load time to less than 3 seconds, make your message immediately clear, consider a responsive designed site and keep distractions to a minimum.
If you would like some help with your SEO or content talk to our Professional Services Team.