Instagram as a recommendation tool
If you own a restaurant or sell any food related goodies, Instagram is the place to be. I'm sure everyone has seen people taking more and more photos of their food as of late. So why not make the most of this, instead of thinking it is weird. Encourage people to take photos of your food and drinks!
What better way to get it out there that you make the best chocolate mud cake, than have someone post it on Instagram with your company tagged in it. Not only will it just go onto Instagram, but it has the potential to make its way to Facebook and Twitter as well.
Of course this is not just for café, restaurant, and bar owers; but anyone with a product that can be dressed up. While this may not be a strategy for plumbers, Instagram is a great platform for getting beautiful images of your product out in the public in a natural way. This also acts as a testimonial of sorts, as customers are recommending your product or service to people like them.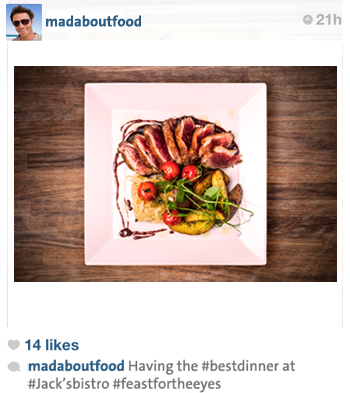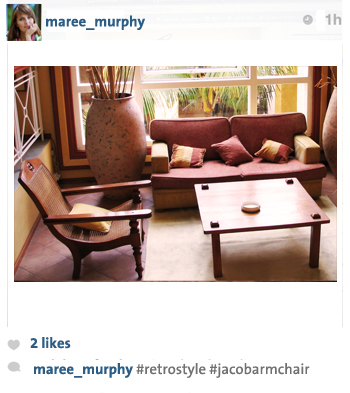 So what are my tips to get your customers snap happy?
Pay attention to the details. Instagram is all about looks, it may be the best cake in the world, but if it doesn't look nice, chances are that it won't make it to Instagram.
Set the scene. Put some nice decorations on the café table, or set up your store so it looks like stepping into a magazine. People will be only too happy to start snapping away.
Create your own #hashtag. This could be something like #Coffeekickstart@Jennys, #Notguiltydessert, #cutestbabyclothes. It should be something short and memorable so that everyone knows that it is your company. Preferably, something that can also be spelled right.
Let people know your shop is Insta-friendly. Put up signs with your Instagram name, and hashtag.
Businesses that should be on Instagram (in my opinion at least)
Cafes, restaurants, bars
Homeware
Furniture
Jewellery/ accessory
Clothing and shoes
Stationary and craft
Gifts
Beauty
Design
Athletic and sporting goods
The entire travel industry
Charities
Plants and outdoors
Music & Arts
Entertainment
Wedding
Builders (photos of the great houses you have built!)