Snowride, increases revenue by 161.5% in just 90 days (in the off season!) with the help of Zeald
Online retail is a great way to target all geographic areas of your market, especially if you only have one shop down in Christchurch.
Online retail is a great way to target all geographic areas of your market, especially if you only have one shop down in Christchurch. Richard Naylor, owner of Snowride, came to us looking to improve his website sales after having a few months of slow results. Considering snow gear is predominantly a seasonal buy, Richard needed to find a way to keep bringing people back to his website even in those warm summer months. After talking with Richard, we agreed the best place to start would be to have a look at his existing website to see how it could be improved. Some of the results of this review, and the subsequent changes that we made can be seen in the image below.
What changes we made
The first noticeable difference when comparing the before and after, is the utilisation of space. We made sure to make the most of the valuable space by changing the positioning of the menu, header, and other important information such as a visible phone line. The menu was also simplified to be more customer friendly as the existing one was hard to navigate.
Situated above the fold was a large textbox, which no one read. Switching to a slideshow not only draws customers into the website, but also allows them to see offers, which acts as a conversion pathway. Introducing regular special updates is a good way to capture the customer's attention and to keep them coming back. Not only that, but it is good for SEO.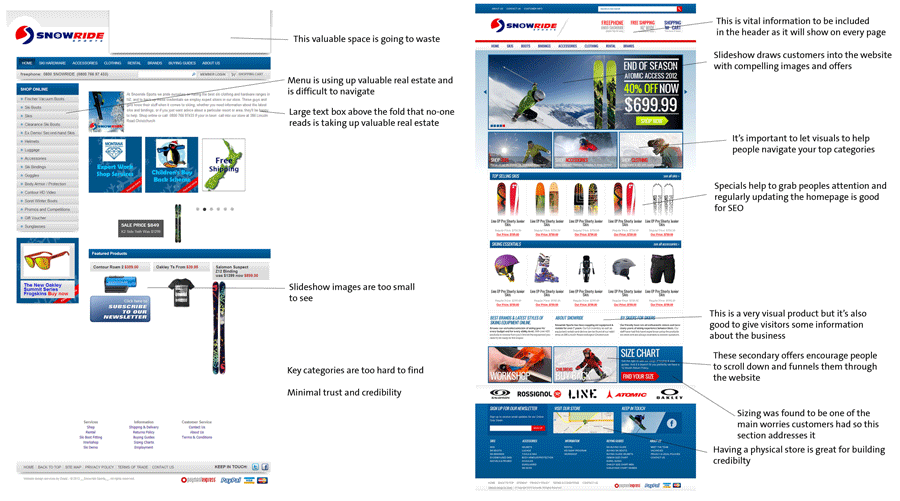 Snowride was aware that getting the right size was a main worry for their customers. We accommodated this by introducing a sizing chart. Additionally, the 'Buy Back' tab was implemented to act as another draw for the customer to return to Snowride. For parents, this is quite a favourable offer, especially for those with more than one child. By making this more visible, customers are more aware of this service.
Our Strategy
The utilisation of both a heat and scrollmap helped us to understand customer behaviour after the website went live. The scrollmap showed us how far down the page customers were going, and whereabouts they abandoned the page. The heatmap lets us see what's "hot" i.e. what links customers were interacting with the most. This allowed us to make any changes to the layout in order to increase conversions.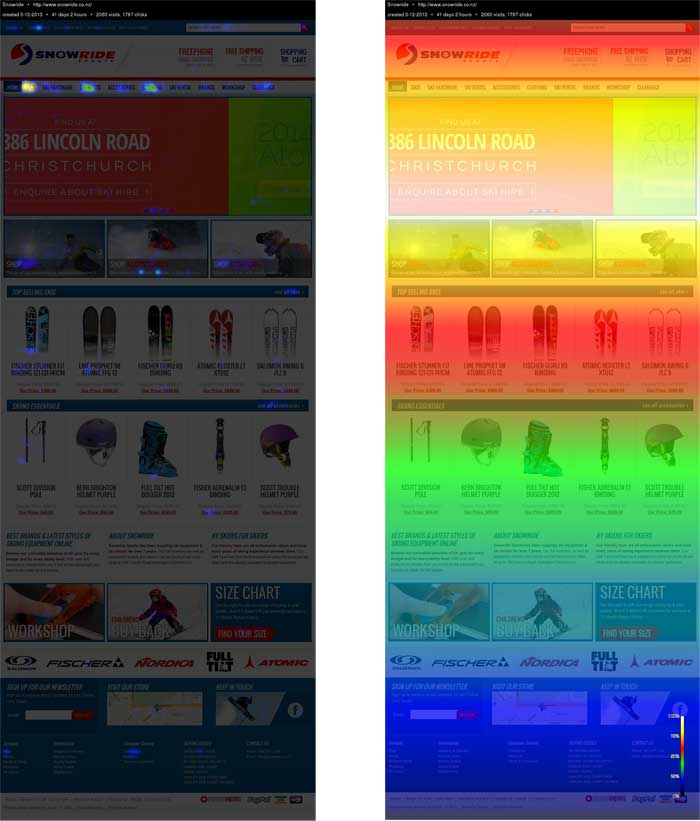 And the results are ...
Following from the changes on the website Snowride saw dramatic changes in the number of ski & snow gear sales.. Within the 90 days after their website went live, Snowride earned more than the entire 2012, this was a 161.5% increase. These results were particularly impressive as the 90 days were in summer and autumn months. (These results accurate at 24 May 2013.)
These results are already fantastic and we have not even hit the winter months yet!