Social media strategy
The more you plan out your strategy the more effective your social media presence will be.
Strategic approach - A Social Media Plan
The more you plan out your strategy the more effective your social media presence will be. Here are a few steps to get you started on it:
1. Study target audience and competition
First and foremost, you need to understand your audience - what they are looking for on the Internet, what they are interested in and where these conversations are happening.
To give you an idea, we have used the study conducted by MarketingSherpa and created this graph which shows you the main reasons why people follow companies on social media platforms: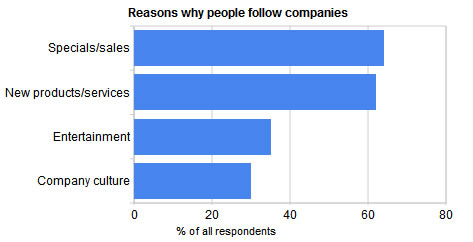 So looking at this graph it's obvious what motivates most of us to follow companies - knowing about any special sales or offers and also learning about new products or services are among the top two reasons. Use research like this to your benefit when you get into social media - only provide information that is deemed valuable by your followers, otherwise you will start losing them. Having entertaining posts and telling your followers about your company culture is good too but keep the content in balance.
2. Define goals and objectives
Your over all goals for your social media plan should be in line with your business and website goals. Once you have identified your goals, define your objectives. For example - say that your social media goal is to increase the number of leads or sales you get from your website. Now you have to break this down into objectives - in order to achieve this goal, you will have to increase the number of visitors to your website, which will require increasing the number of followers you have in your network. You will also need to post articles and run promotions on your social media platforms to engage your followers and direct this traffic.
MarketingSherpa conducted another study of around 2,300 organisations and asked them what objectives does social media achieve best and here are the responses from all the respondents.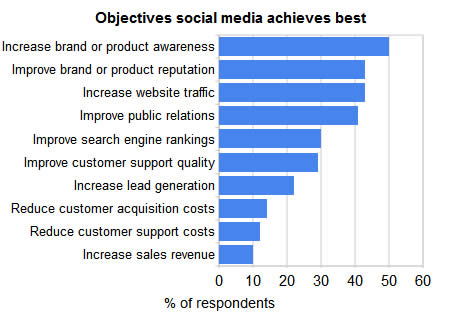 The results show that most of the marketers agree that the objective achieved best by social media is increasing product awareness, which plays a big part in your marketing goals. But it doesn't stop there, social media can be used to help a number of areas. You can have multiple goals that breakdown into a few different objectives - the trick is to get started on something simple and gradually add to your objectives. For example, objectives like improving customer support quality is something you can start adding to your once you get your feet in and feel comfortable. But don't underestimate the power of social media when it comes to customer support. During the disruptive Icelandic volcano, Heathrow Airport had dedicated staff updating Twitter and Facebook with flight details and also responding to people a lot quicker than waiting get through the customer support which had long back logs, as you would expect.
3. Set success metrics
Once you have your over all goal and objectives, it's time to define your success metrics which means setting definite measurable objectives so you know whether your social media presence is working. Say your goal is to increase number of leads or sales from your website - give this a figure, for example increase it by 5% by the end of the year. And now for each of your objectives do the same - you will need to increase your website visitors by 30% and this might mean you will need to build a network of 1,000 followers by the end of the year and in order to keep them engaged you will need to have at least one post per week on your Facebook page, one every two days on Twitter and one new blog post every week, etc. etc. Each month come back and visit these numbers to make sure that you are on track with your goal. Facebook has a great reporting feature where you get a weekly update on the number of fans on your page, number of visits to your page and also total number of posts. You will have to do this manually for Twitter but if you do it regularly it won't feel like a big job.
Here's another study by MarketingSherpa on what marketers are measuring in their social media plans: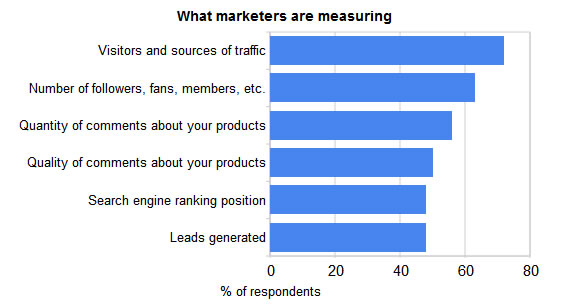 As you can see, the majority of marketers measure the visitor numbers and also network size in terms of number of followers and fans. Quality and quantity of comments on the posts, search engine ranking and leads generated are also among the top 6 measured areas by majority of the marketers.
4. Pick your platform
There are a number of platforms available to you as far as social media is concerned:
Facebook
Facebook has become an extremely popular tool for individuals to connect with friends and family online and share personal information such as pictures, social events and birthdays. However these days Facebook is also being used as a very effective channel to connect with customers. The main reason for this is the fact that globally it is estimated that around 200 million people log on to Facebook everyday! Therefore by having a presence on this channel you will be in the same space as most of your customers. So businesses have been starting Facebook pages and having their clients and fans "like" them so they can connect with them on a daily basis. On a Facebook page you can include posts, upload pictures and also publish links your blog or website.
Twitter
Twitter is a social networking device that allows users to send and read other users' updates, which are known as 'Tweets'. Tweets are typically short and sharp as they can only be up to 140 characters in length and most messages by default are published publicly. This service is widely used by businesses to launch campaigns and to increase brand awareness. Twitter is also great for posting reviews and comments so it can be used as a powerful platform for improving customer satisfaction by being able to directly listen to what the customer is saying about your company.
Blogs
Blogs are a great tool to keep your followers in the loop - whether it's a personal blog or for your company - these days blogs are becoming very popular because they offer a platform where you can share information. Increasing number of people are looking at blogs to give them information about all sorts of things - product reviews or useful articles on different subjects. There are a number of different blog providers out there, and we have just introduced a blog platform that will integrate with your website - meet with one of our E-Business Consultants to find out more.
YouTube
Youtube and Flickr are designed for sharing video and images. They offer free space where users can put up pictures or videos of things they are interested in. YouTube is another medium that is becoming an extremely popular channel for businesses as you can create a YouTube account for your company and effectively use it as a 'TV' that features short videos to help your customers. It can also be used to drive traffic to your website because it has effectively become the second largest search engine.
Digg
Digg is a place where you can find the best rated content from all over the world. From the weirdest thing on the Internet to the most obscure blogs, Digg will bring the most highly rated content in one portal. It does this by getting submission from the users, then having the other users view it and 'Digg' the articles they like. The submissions that get the most 'Diggs' get to front page, which is viewed by millions of people. So this is another great avenue to include interesting information or publish articles.
LinkedIn
LinkedIn is a professional tool used by businesses to network online. Individuals can use it to build an online portfolio by listing their work experience and gathering references so companies can use it as a tool to hire staff. But it is really only used by businesses and does not reach customers.
But by far the most commonly used platforms are Facebook, Twitter, YouTube and blogging. But remember, if you have a solid strategy it doesn't matter if the technology changes and there is some other platform you should be using.
5. Define the architecture
Social media architecture is all about connecting people with your content on landing pages and improving your conversion rate. The entire purpose of social media for business is to direct the conversations that are happening to your website - and this can be done in a number of ways:
Use campaigns that are relevant to your target customers, announce them via Facebook and have the traffic directed to your website.

Present special offers or come up with competitions that your followers can benefit from and take them to your website to redeem the offer.

Write useful articles or provide great information on your blog (which is on your website) and use your Facebook/Twitter to promote them. Likewise, your blog could help promote your Facebook page because it automatically lets your followers know when there is a new post.
The social media architecture links the actions with the various platforms so use your email newsletters and website to promote your Facebook site and use your Facebook account to drive traffic to your website. Good quality content in multiple areas that link back to your site can also improve your search engine optimisation - use that to your advantage.
Remember to roll out each platform sequentially and make sure you have mastered one before moving on to the next one.
6. Set the actions
Specify your policy and have guidelines
Decide how regularly you are going to put up a post or a tweet and how you respond to any mentions - both good and bad. Honesty and transparency in posts goes a long way - this is the age of information and if your followers want to know the truth about something, they will. It's best for you to be honest and up front at all times. Your followers will appreciate it a lot more than some PR spin.
Find the best person for the job
Don't make the mistake of putting an intern or someone junior in charge of social media. It is a big responsibility and in the wrong hands it can lose you followers. At the same time don't choose your CEO or your technical directors just because they have a good name in the industry. Social media role should be given to someone that WANTS to do it. Zeald client Louisa (co-owner of Belly Beyond) recommends using your best communicators for this job. It's not about choosing the most technically savvy person but the person that is best at communicating your brand and the message across. There are options to outsource your social media needs but we strongly recommend having someone in your company doing it or hiring someone part time to do it. By all means get a consultant to do your strategy if you like but when it comes down to the regular communication, it should be someone that reflects the culture within your company.
Think up tactics
This is the fun bit. This is where you decide what kind of tactics you will use to communicate with your followers. Say you want to have a blog that will include a new article each week, one of your tactics will be to announce your blog posts via Facebook and Twitter weekly. You can then think of specials you can run around different times of the year depending on the kind of business you have, for example around Easter or Christmas you can offer a special discount or a promotion. Your tactics should look at what you can do to keep your customers interested as well as attract potential customers so it could be giving away free information, or a special offer just for anyone that follows you. You don't have to decide exactly what it is straight away but just decide that you will do something to engage your followers. Have a look at what others are doing to get ideas flowing.
Have a rough calendar in place
Once you have your tactics planned out, create a calendar - it doesn't have to be definite, even something rough to say that on this particular week you will do something new, how you would launch it, where you would direct traffic to and how you can measure the success.
7. Test, Measure, Tune
This is one of the key areas when it comes to social media. Always measure how your campaigns are doing and tune the next one accordingly. Check how you are doing with your objectives each month, as mentioned before, Facebook has a great feature where it will email you weekly with your stats so you know how many fans you have and how many comments you have had on each post. You will have to do this manually for Twitter and Digg. Remember, don't be afraid to try something completely new or push the boundaries. If you make a mistake, just move on to the next initiative.