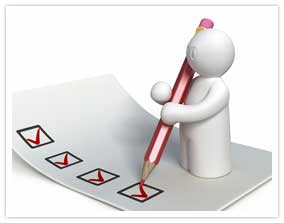 An image is worth a thousand words, so stock images are a great way to quickly illustrate your point on sales and marketing materials. Not all of us are great photographers or have the equipment to take good images for our website, so it is great you can go to image depositories such as istockphoto.com, depositphotos.com and gettyimages.com (to name a few) and purchase photos and images to use across your promotional resources.
However for every great image there are hundreds of sub-par or just plain bad images. If you ever need some entertainment just look at this page for some amazingly bad examples! There are also some comic themes that pop up on these sites, such as "businessman doing yoga" or "woman laughing alone with salad" that will have you scratching your head in confusion or rolling on the floor laughing wondering what people must be writing about!
Some tips to consider when selecting your stock images.
If you can take a picture yourself, don't use a stock image.

Use images that support your content. An image should quickly tell a reader what your content is about and reinforce your message, not just decorate the page.

Don't use a stock image for your products or staff. This may surprise you but it does happen. Having an image that isn't the actual product does nothing for the trust and credibility of your business.

Use stock images that depict real-life scenarios. Take the businessmen doing yoga example. The likelihood of someone in a park, in a suit and tie, doing downward dog, whilst on a laptop is probably rare. Your point will be illustrated much better with another image.

Beware of overused images. Take a look at your competitor's sites and make sure you aren't using the same or similar images. You need to find an image that will represent your brand in a unique way.

If you plan on using the image in print, don't buy the low-resolution web version. Your picture will look pixelated and blurry when you try to make it bigger.

Refresh your images. Design trends change and so the image you purchased in 2002 will no doubt be outdated. Look at the people in your images and be aware of clothing and hairstyle trends that will date your images (unless you are specifically after a retro look).