Why does my "Search Phrase" report have odd words or letters in it?
Late last year, Google stopped providing outsiders with the information that tells website owners what search phrases were used to find your website.
Late last year, Google stopped providing outsiders with the information that tells website owners what search phrases were used to find your website
They made this change for security reasons (Google Official Blog, 21/05/10). Mainly to protect website users' search behaviour from being watched by third parties.
Prior to this change, when a user performed a Google search using a phrase such as "Auckland Plumber" and the user clicked on your search result, Google, would pass these search phrases to your website. Through your reports you could learn what search phrases people used to find your website.
As of September 2013 this information was encrypted and no longer accessible to website owners.
The below example shows a Search Phrase as an 'h'.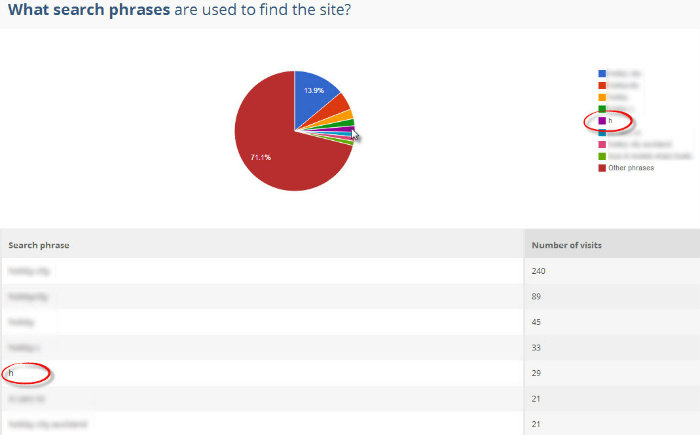 This information provides valuable marketing insight. It is a shame to lose it, but not all hope is lost... We can source most of this information using Google Webmaster Tools and Google Adwords.
Using Webmaster Tools search queries report
The Search Queries report shows what keyword searches your site is ranking for and what keywords have generated traffic to your website. See below.

Let's have a look at the top phrase used by people to find the above listed site which is 'Plumbers Christchurch'. It has 77 Impressions which means 77 users have used this search phrase to search in Google and have seen your website link in the search results.

Clicks means 63 people that have clicked the listing in the search results. Click Through Rate (CTR) means 82% of the 77 impressions clicked on your link to your site. This information is extremely valuable and helps you to determine if your keywords will drive targeted traffic to your website to buy or enquire about your products and/or services.
Learn more about Google Webmaster tools.
Using Google Adwords keyword planner
The Keyword Planner is a free tool that enables you to identify and analyse potential keywords that can be used to direct traffic to your website through Google Adword Campaigns. With this tool you can see exact traffic numbers for Advertisements that are associated with specific keywords.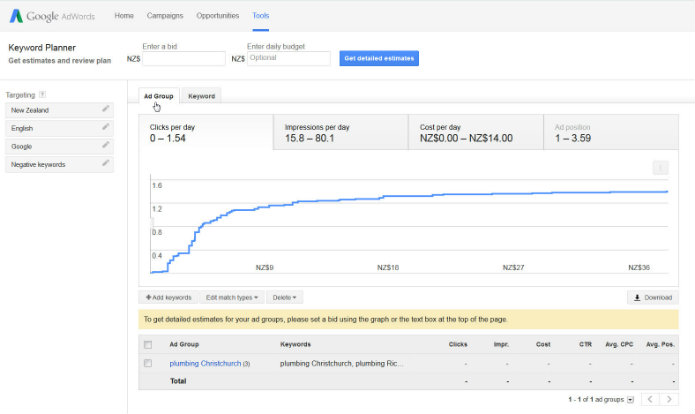 Please note to access the keywords in the Keyword Planner, you do not need to fund your account, you only need to sign up for Google Adwords.
In this example you can see information based on the keywords for 'plumbing Christchurch'. If you were to run a campaign that targeted the search terms 'plumbing Christchurch'. You can see that approximately 0 - 1.54 clicks per day can be predicted for those find the site with the keywords plumbing Christchurch. It also predicts that 15.8 to 80.1 users might see the site's Adword campaign on a daily basis depending on the budget. This tool is useful to experiment with your keywords, to see the approximate Cost Per Click (CPC) on your keywords, and to see local search trends to name a few. Click here for help with the Keyword Tool.
Webmaster Tools and the Keyword Planner provide excellent assistance with identifying and utilizing highly targeted, planned keywords to drive traffic to your site and to find out how users are accessing it. Please contact Zeald Support for more information.