5 Reasons Why Email Marketing Is Here To Stay
Amid the onset of social media - mobile messengers and chat apps, email marketing continues to thrive and has shown resilience over the years.
Email marketing is not dead.

Amid the onset of social media - mobile messengers and chat apps, email marketing continues to thrive and has shown resilience over the years. It remains one of the most effective marketing tools for a business or brand to build lasting relationships with customers.

Email has gone a long way since the first promotional campaign was sent to 400 people in 1978.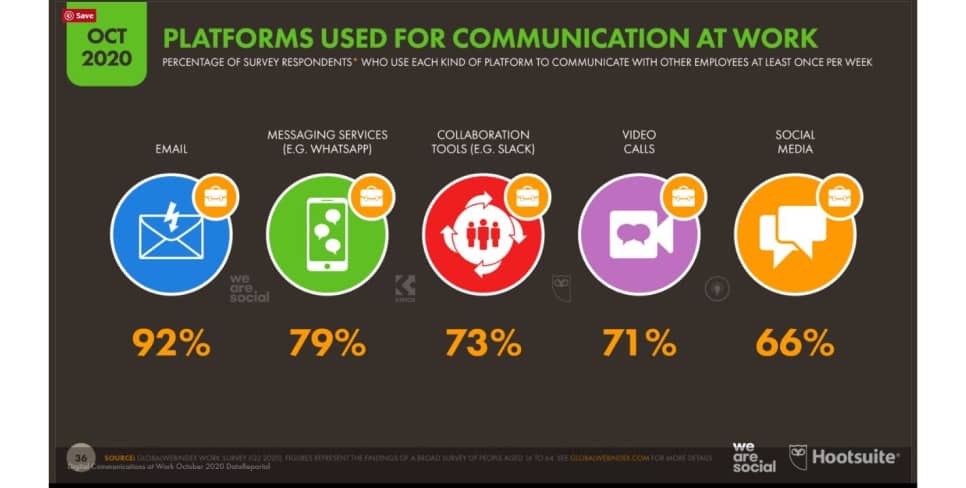 The datareportal.com's Digital 2020: October Global Statshot by Simon Kemp, underscored that email took the largest percentage at 92 percent among other platforms being used for communication at work.

Global email users reached 3.9 billion worldwide in 2019 and it has been projected to
grow to 4.48 billion users by 2024.

Statista 2020, which was published on October 2, 2020, reported that about 306.4 billion emails were sent and received each day worldwide. The figure is projected to increase to over 361.6 billion daily emails in 2024.

Marketing strategies come and go but email marketing is here to stay and it will remain that way even as it has evolved and continues to transform in the years to come.

All these stats and data prove the importance of email not just in marketing but also in everyday life.

A carefully planned email marketing campaign is effective in converting prospects into first time buyers, and first time buyers into regular customers.

Automating emails, through tools such as Malichimp, Mautic, OptinMonster, Hub Spot, Litmus, Marketo, and Campaign Monitor, among others, has also made it easier for businesses to hasten the process yet reach a larger audience in so little time at a minimal cost.

Here are five reasons why email marketing is here to stay:
Reaches a wide audience

There are 2 or 3 times more email accounts than combined Facebook and Twitter accounts.

Most email users have two or three accounts. These email accounts are used to sign up for any website including social media platforms such as Facebook and Twitter. Anybody who's online has an email account. Imagine the audience reach that email has! No other channel has that capability to connect to such a large number of clients

Delivers message effectively

Gaining a new email subscriber is still better than having a new Facebook fan.

Campaign Monitor said, "90% of email gets delivered to the intended recipient's inbox, whereas only 2% of your Facebook fans see your posts in their News Feed. This is because Facebook limits the number of times your posts appear in the News Feed in an attempt to drive brands towards their paid advertising options."

It said that only 200 of 10,000 Facebook fans get the chance of seeing a post on their News Feed but at least 9,000 of 10,000 subscribers will receive an email in their inbox. Hence, your message is 45 times more likely to be seen using email than Facebook.

And since email subscribers have signed up voluntarily, it means they want to hear from you. This gives email a better advantage to get your message across as your recipients already have the interest about your brand, products, and services.

Drives conversions

Campaign Monitor noted that the average click-through rate of an email campaign is around 3% (of total recipients), whereas the average click-through rate from a tweet is around 0.5%.

"This means you are 6x more likely to get someone to click through to your website via email than you are from Twitter," the Campaign Monitor reported.

Gets higher ROI



Email, by far, remains steadfast in getting a return on investment.

The Litmus research 2019 reported that "consumers continue to prefer connecting with brands via email, and email marketers are seeing their email ROI skyrocket, with the latest numbers coming in at $42 to $1".

Email, being a cost-effective channel, outperforms other platforms in generating ROI. Personalised and relevant messages still deliver the desired marketing results.

It is an open platform

Email is free. It is not owned or controlled by any one. There are countless services that provide access to send and receive email.

In contrast, Facebook has reduced the number of followers who can see a brand's post unless they are paid advertisements.

The Campaign Monitor said that 98% of brand followers will never see the posts in their News Feeds and most likely Twitter seems to be moving in a similar direction as Facebook in introducing algorithm-controlled feed.