A common question startups and small businesses will ask themselves is, "Does my business need a website, or is an online business directory or Facebook page enough?"
The answer is simply 'yes'. It's not one or the other. You can build a website for your business
so cheaply
these days it's unreasonable not to have one. The business directories (including Google My Business) and social media pages will then help people find it.
So let's look at the differences. A directory listing will be a part of a larger website, like an online version of the white pages. Google My Business is the most widespread directory and shows up during a google search looking like this:
You can also list your business details on local, or industry specific directories and it will look something like this:
It has all the information one would need to contact your business, and that's about it. The benefit of a directory listing is cost. It's cheap, if not free, and requires little to no maintenance. The downside is that you have no control over the directory as a whole, meaning the design and layout could change at any time. There is also no active marketing going on for your business. The business directory may be promoting the website itself, but again, you have no control over this.
Many small businesses rely solely on directories in order to promote themselves online. This may work fine for small businesses that are happy with their size, as they most likely rely on existing customers and word of mouth. For businesses that wish to grow however, a website is a necessity.
When combined with an active website, directory listings can become a more effective marketing tool. This is especially true when listing with a business directory that understands the importance of a separate website.
As you can see in this example, this directory acts as more of a portal to the main website. Almost everything on the page points the user to go visit our website, where they can find much more information about the business.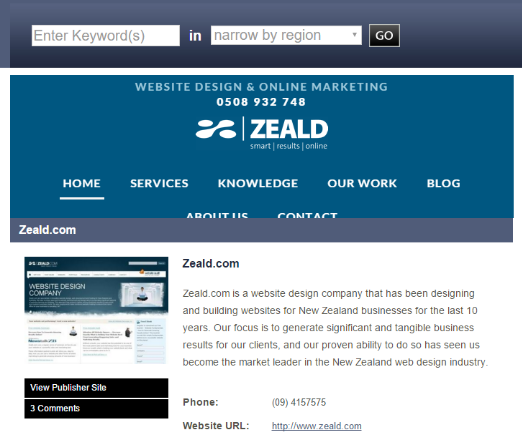 True website success won't be achieved with just a directory listing and a website however. This all needs to be combined with active marketing campaigns, Google AdWords, SEO etc. There are only two reasons I can think of where you wouldn't want to take advantage of all these online marketing opportunities. Either you're content with running a small business and don't want to grow, or you don't want more work. Both options are fair enough, but if you're interested in achieving success online you need to be looking at all your options.
If you need help with your online endeavours, feel free to
get in touch with the experts at Zeald.