meet the experts: website design with loretta jean
Loretta Jean, has always been drawn to creative pursuits throughout her life. Studying in both New Zealand and Hawaii, she was lucky enough to be amongst inspiring landscapes, cultures, and people.
| | |
| --- | --- |
| part one of two: web designs in 2014. zeald designer, loretta jean, talks about her expectations of the year ahead as part of our meet the experts series. | |
Loretta Jean, has always been drawn to creative pursuits throughout her life. Studying in both New Zealand and Hawaii, she was lucky enough to be amongst inspiring landscapes, cultures, and people. Becoming a web designer was a natural path for Loretta, she loves being able to receive a logo from a client, and turn it into a website.

Looking back on the past year, Loretta talks about web design as being clever, "…the designs and functionality are getting more and more detailed, yet often look simple and clean".

2014 looks to be a great year for new exciting web design trends blending with classic favourite concepts. Loretta looks forward to the year ahead, declaring: "everything in a website is getting bigger! Big juicy images, big chunky font, and big white spaces that allow the content to breathe". Responsive Design also looks to be growing in popularity with more and more people choosing their phone after a long day sitting at a desktop.
responsive design = better results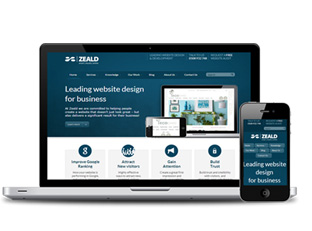 Responsive design is often more minimal or slick in its design than other desktop websites. The design is also more functional as loading time is optimised and the design does not include any non-mobile phone compatible effects. All in all, it is a design that encourages minimal effort from the user, who is still able to gather the same amount of information as if they were on a computer, they are not left frustrated, which leads to greater engagement. The fact that anyone, anywhere at anytime can find your website, only improves results.

Results driven design is something which Zeald focuses on heavily. "We pride ourselves on delivering beautiful websites that generate results for our clients", Loretta declares. In terms of design, this can mean having the important components that people expect to see in web pages, actually there. Take for example a site that is built for mobile only where the expected header or footer is removed, this can leave your user frustrated and "severely impact on results".

On top of having a great looking website that produces results, it is important to make sure the website is unique, and not similar to everything else out there, "a good designer will take into account the audience, the users, and push the boundaries where they ought to". Being able to produce a website like this, the Zeald team follows standard web practice and keeps up with the latest design trends. This means keeping an eye on web design publications, and continuously looking for new inspiration to keep designs looking unique and fresh.
keeping it simple
Quality content is the cornerstone on which Zeald build websites. Things have changed since content was merely text on a screen; Loretta believes the best way to get a message across is through great imagery. However, she warns people off using cliche stock photos as they can look both contrived, and you run the risk of the image being on your competitors site too; "when users see the same image on your site that is on your competitors, it doesn't make your site look unique or different".

The Windows grid look is one of the key trends hitting 2014. This look comes from the Windows programs which show blocks with different content or links. The purpose of this design trend is to create a clean look which holds all the content in its own component. We often hear web designers talking about simple designs; to the uninitiated, simple can sometimes suggest a plain design. Plain is more often a lack of details on the website itself, leading to a boring end finish, "a white site with boring font and blocky images, … a non-memorable site". In contrast, a simple design creates a user friendly atmosphere so the content can stand out.

While Loretta loves this trend from a design perspective, she is wary about its crossover with Long Form design. In Long Form Design, the website encourages customers to keep scrolling down a page, to find out more information. So while Loretta gives long form the thumbs up, she encourages clients to proceed with caution when making changes; "It's a look that often needs a designer to keep the website looking good".
Stay tuned for part two, where Loretta talks more about new design trends, and how to know when your website needs a makeover.