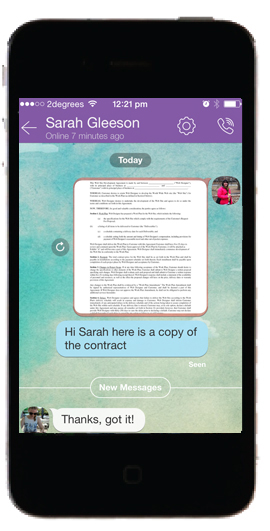 Viber is a great app to use to keep in contact with people when you are overseas. The app allows you to send free messages and free calls to other Viber users. You can download it to your smartphone, or use it on desktop.
This is a great tool for anyone who travels regularly and needs to keep in contact with colleagues, friends and family.
Use Viber to:
Best-quality HD voice calls
Video calls
Text, photo and sticker messages
Full sync between your mobile and Windows
Transfer ongoing calls between devices
You can also make international calls with Viber, to any mobile or landline number (someone who doesn't have a Viber account) for much lower rates than your local supplier would charge.

Viber is really easy to use, much like using messaging on an iPhone; the design is clean and simple. The app supports group chats with up to 100 Viber members and you can send or take photos and video from within the app, or send existing ones stored on your phone or computer.

Messages are sent and received seamlessly, and call quality is really great. The only downside with Viber is there is no status display, so you can't let people know you are not available to take a call, but this is really the same with receiving any type of call, you just don't have to answer!

Viber is available for free download, visit www.viber.com for more details.