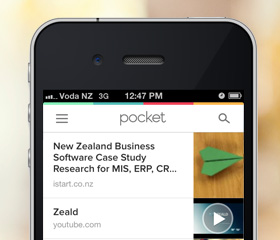 Imagine a world of websites, online articles and other tidbits that it tailored to what you want to read, free of other clutter and distractions such as banner ads. You don't have to imagine it, there's an app for it!

Pocket (formerly Read It Later) lets you bookmark websites, article, twitter posts and even videos, so you can read or watch it later at your leisure. Great for when you a researching a blog article! You no longer have to clutter your bookmarks tab or try to remember where you saw that product you want to buy.

There are other apps on the market that provide a similar service to Pocket; Instapaper was one of the first to do this. Where Pocket excels is the design and layout of the articles; clean and simple with eye-catching images to identify your article. Think of it more like your own curated magazine, rather than a newspaper.

Content you "put in your pocket" is available on your phone, tablet or computer. Plus, once saved to Pocket, you don't even need an internet connection to catch up the latest news.

Download it free from iTunes or Google Play.