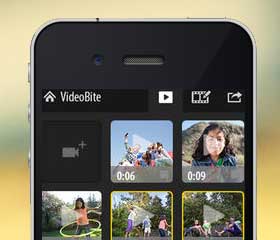 VideoBite makes it easy to create short movies on your smartphone—no experience necessary!

This app is great if you like to take video using your iPhone. Let me just say upfront, sorry this app is currently only for iOS. If you are an Android user you'll find some alternatives, such as Kinemaster Pro, but video editing seems to be an area of weakness within Android.

Adobe are the crowd behind VideoBite. The app is really easy to use, and lets you create a video masterpiece, which you can upload to Facebook or Youtube, save on your phone, or send privately via SMS or email.
How it works is:
Shoot your video as normal using your iPhone camera.
Open VideoBite to edit.
Mix and match clips from your camera roll.
If you like, insert photos you've taken, add titles and transitions.
You can add music directly from iTunes or use the pre-loaded soundtracks
Trim long clips, add effects and filters, add text, preview and share.
This is a great little app that can really compete with iMovie, with an added bonus that it only takes up 28 MG of space, compared to iMovie's 635MB.
Edit and create movies for your presentation while you are on your way in the taxi! Upload demos of your product in a jiffy. Also great app to have on hand for weddings, parties, or showcasing your trip.

Download your VideoBite app today for free from iTunes.