How to: Rank well locally to improve your SEO
Whether you're a small, home-based business or a large international company, you're probably aware that ranking highly on search queries is something that you want to be doing.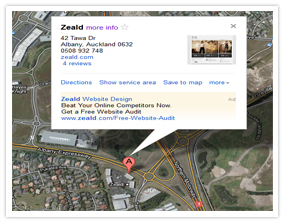 Whether you're a small, home-based business or a large international company, you're probably aware that ranking highly on search queries is something that you want to be doing. However, you're also probably aware that this is much easier said than done.
Think about that last time you used Google to search for a product or service. Whether you were looking for a plumber, electrician or clothing, chances are that you wanted to find something located in, or at least able to be delivered to, your city.
Studies have shown that 53% of searches on mobiles and 20% of searches on a desktop had local intent; and that only counts the people specifically searching for something using a local modifier such as "Auckland", something people commonly leave out yet still expect local results.
This is a crucial point in understanding SEO. Search engines want to provide the most relevant results to their searchers, which typically means showing them local content. What's the use in showing a pet shop in New York when the person is using a computer located in Auckland?
This means that making sure your website is optimised to rank locally is extremely important. So what should you be doing to increase your chances of being one of the top results in someone's search query?
Google Local (Google Places)
Having a Google Local listing is one of the most important factors for making sure you're ranking high for searches with local intent. Therefore it's vital that you claim your business listing. Google Local is the new version of Google places and is integrated with Google+, Google's own social network. To claim your Google Local listing, complete the following steps:
Go to plus.google.com and log in. You login details are the same as your Google account (which you use for things like Gmail and Google docs). If you don't already have an account, sign up for one by clicking the red box in the upper right hand corner

Once you've logged in to your Google plus account, you need to create a business page. To do this, click on 'more' on the left sidebar and then select 'pages'. Click on the 'Create new page' box in the upper right hand corner

Select 'local business or place' and enter your phone number. Make sure that the phone number you enter is the main one you want your customers to phone

Google will bring up a list of any businesses it knows of that have that phone number. If you see your business on the list, select it and confirm your info. If you don't see it, select 'Add your business to Google' and enter your details.

Finish creating your page by following the steps provided by Google
IMPORTANT NOTE: You need to ensure that the details you use on this page and any other places around that internet that list your company name, address and phone number (NAP) are exactly the same (e.g. 0508 932 748 instead of 0508932748 or 09 415 7575 and 42 Tawa Dr, Albany, Auckland 0632 instead of 42 Tawa Drive, Auckland). Google will rank you higher in local searches if they see that your information is uniform across the web. Even small differences such as Dr instead of Drive make a difference, so pick one and stick with it.
Get Citations
Citations are anywhere online that shows your NAP (name, address, phone number). This includes your own website, online directories and your social media profiles. These citations are important as they show Google that your information is correct and that you are a real business. As stated above, make sure that your NAP is exactly the same across all your listings. Getting everything in the same format may take a while, especially if you've already created many listings, but this step is very important and will pay off when you get it right.
Get Customer Reviews
Customer reviews and interactions are becoming more and more important when it comes to SEO. Try and get your customers to review your products and services on your Google+ page. Ways you could do this include emailing them to thank them for their purchase and encourage them to leave a quick review. However, don't fall in to the trap of paying people to write positive reviews or creating fake ones. These reviews can do more damage than good if discovered. Genuine reviews are always best. It's also important to realise that not all of these reviews will be positive – which can actually be a good thing. A mix of positive and negative reviews can help to show that the reviews are genuine.