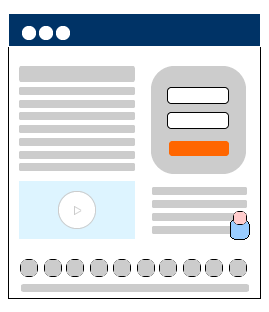 Getting customers to either purchase from you or make an enquiry should be the main goal of any website, but actually getting customers to convert can be a tricky process. Landing pages help you with this conversion process by providing relevant information to specific groups of visitors and guiding them towards a main goal.
Essentially a landing page is a web page that is separate from you main website. It is typically linked from a campaign and contains
no navigation to other pages on your website
call to actions
tailored copy to suit particular visitor's needs.
For example, if you were to send out an email campaign to your existing customers with a special offer for a new product, you would want to target the content on this page to people who are familiar with your offering. The purpose of this page would be completely different to one that was linked to from your Ad Words ad, which would typically be new customers who have only read a few sentences about your company.
So how should you use landing pages effectively?
1. Only have one message/goal per page
Unlike the rest of your website, which is likely to be more generic and aimed towards a wide range of people, a landing page should be extremely focused towards one particular customer group and goal. Don't confuse your visitors – if they clicked through to find out more about a discounted product, only tell them about this product. Make sure your headline shows customers that they have come to the right page for what they are looking for.
2. Keep the main message the same throughout both the campaign/ad and the landing page.
The main benefit of a landing page is that you can tailor the copy to specifically match a particular campaign. For example, if you are sending out an email offering 25% off a new product to people who have purchased from you before, the email and landing page should both highlight this deal, so that when a customer decides to click through from your email to the website they are easily able to see that they are on the right track to getting their discount.
3. Have a clear call to action
The call to action on your page needs to stand out. Ideally, there should be a call to action near the top (as soon as you've finished your initial sell) and then repeated further down the page as you answer any other questions people may have. This allows people to convert easily and quickly.
4. Ensure you landing page has a professional design
Your landing page is likely to be the first page that many potential customers click through to, so it's extremely important that the design is clean, uncluttered and in line with the rest of your advertising. If you are using long blocks of copy, break it up by using bullet points and headings and include call to actions throughout.
5. Test, test and test some more
The single most effective way of ensuring that your landing pages are working the best that they can is to conduct split tests to test different versions and changes that you make. Split tests involve directing traffic from your campaigns to different variations of your landing page and provide you with actual data that you can use to make decisions on which one to use.