Optimising for Google Local Search (Google places)
Sometimes referred to as Google places, or Google maps,
More recently Google has built in the Local search results into the general search results, which displays a map and a corresponding list of business links.
How do I get my website to appear in the Google local search results?
Sometimes referred to as Google places, or Google maps,
More recently Google has built in the Local search results into the general search results, which displays a map and a corresponding list of business links.
The following example shows the results for a local search using the search term "pizza auckland"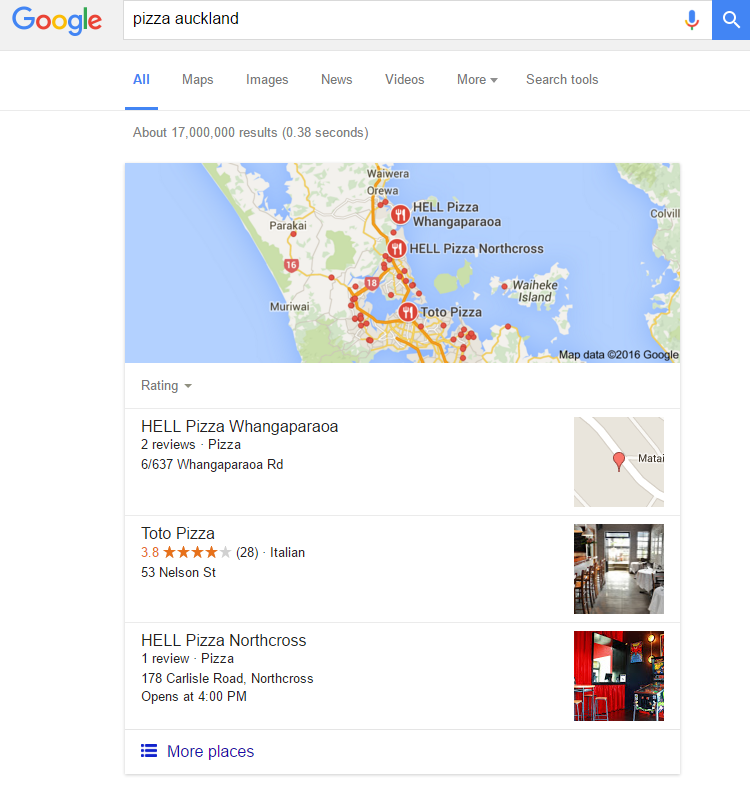 This feature forces many of the standard search listings down the page and below the fold, which reduces impressions, clicks and ultimately orders. So it is important for local business to have a healthy presence here for relevant search phrases.
Setup a Google Places account
If you do not already have an account, you will need to setup a Google places account for your business:
Login to your Google account. If you do not already have a Google account you will need to setup a Google account
Then go to the Google Local Business Centre
Add a "Business link"
Fill out the form and choose to receive your address verification pin number by post or by text message
Google will send you out a postcard with your pin number or text it to your phone
When you have your verification pin number you will then need to return to
Google Local Business Centre
and verify your business address by entering the pin number.
So the question is how do you get a website to appear in this list of local links at the top of the search results?
There has been much speculation about this and varies from country to country IE. New Zealand relies heavily on the Finda business listing.
Local Search is affected by what's on your website, but it is also affected largely by conditions outside your website, such as the websites that link to your website.
Of course Google do not explicitly tell you how to do this. In fact they tell you very little. This is what Google has to say:
"As with all Google search results, Google Maps ranks business listings based on their relevance to the search terms entered, and geographic distance is only one of the factors we consider. Sometimes our search technology decides that a business that's farther away is more likely to have what you're looking for than a business that's closer."
Not really very helpful.....
Local Search Ranking factors
Many Search marketing companies now focus on optimisation for local search results, including Zeald's own web marketing department. From experimentation there are many theories and methods for optimising a website to improve its local listing search rank which we would like to share with you.
Claim your listing at the local business centre www.google.com/local/add Google require you to "prove" the location of your business, by post or by phone.

List your business in the proper categories once it's been claimed

Locate your business nearest the centre of the city

For example, if you search for pizza, the businesses are listed according to which is closest to centre of town. This is where Google defines the centre of town or the suburb etc. There is not too much that you can do about this one unfortunately.

Keyword optimisation in the title, description links etc of your website. Include the location of your business in the title tag, or use the city and country in the title tag, and in your meta description.

Obtain citations from authority sites like Chamber of Commerce to determine your street address and phone number. The more 'citations', the more highly you'll rank in a competitive locality/term. 'Citations' are not inbound links to your website - they are just content in pages that connect you to a locality.

Create / update any directory listings - google, yahoo, bing, yelp etc. and make sure that they incorporate your target search terms in the description. If appropriate modify the company name to include keywords i.e. instead of Acme make it "Acme Pizza restaurant" so that it comes up under "Pizza" + "location". In New Zealand it is important that you have a high quality Finda listing because Google obtain some of their business listing data from them

Obtain links from local websites or simply a citation from local websites. For example testimonials and or blog pages. Try building anchor text links with the city or town names pointing to your site.

3rd-Party Website Reviews- Get your customers to post reviews in Google and other local listings. The more reviews your site has the better your site will rank

Participate in Local Pay per click advertising (PPC)

Publish the local address on every page of the website, IE. in the footer.