Split Testing
Split Testing is the single most effective way to increase the performance of your website.
The single most effective method to improve the performance of your website
Split Testing is the single most effective way to increase the performance of your website. Split testing is not only effective, it is also an inexpensive way of making improvements to aspects of your website, using your own customers as a democratic tool to help make decisions. Who better to understand the needs and wants of your customers than your customers!
First you need to understand that building a successful website is a process of continual improvement, which involves:
Establishing the goals of your website. i.e. sell products or generate enquiries
Optimise your important website pages to achieving these goals - these pages are known as landing pages
So what are landing pages?
A landing page is the first page a visitor to your site sees.
Landing pages are often 'linked to' from marketing campaigns, social media and email campaigns.
Optimising a landing page
For each landing page you need a goal. In many cases this will be to convert site visitors into sales or leads. An ecommerce homepage might be to "click through to a product"
Improving a landing page involves increasing the number of goals achieved, or convert site visitors into sales or leads. This is known as the Goal conversion rate.
Remember, your website is a leaky bucket full of holes and by plugging these holes you retain the precious customers and stop them from leaking out.You improve the number of customers who take the desired action you want them to. You improve the conversion rate of your pages and you improve the performance of your website in general.
Usually when you want to optimise your website you make changes based on a gut instinct, best practices, research, personal preference, previous experience and measuring your goal completions to give you an indication of which changes were positive or not. While this method is most likely better than nothing, this won't tell you exactly what is working or not working.
So what is split testing?
Split testing involves running experiments on landing pages of your website. You choose a page you think needs improving and duplicate the page; the original page stays the same, while aspects of the duplicate page change. Traffic gets split between the two versions evenly and the split testing software tells you how the new page's conversion rate differed from the original. If you see a significant increase in goal conversion, you keep the highest performing page and continue the process of improvement by testing other aspects on a new page.
How does split testing work?
Pick a page that you think needs improving, starting with the most important pages that are used to complete the goals of your website.
Create a new version of that page and make changes you think will improve the performance of that page, changes that you think will help increase the number of goals your website visitors complete after viewing this page.
Setup a split test experiment using split testing software.
Run the experiment. Your website will show each page in your experiment to alternate visitors. The split test measures how many visitors you get to each page and how many of those visitors complete your website goals - like making an order, completing your enquiry form, signing up to your newsletter, or clicking through to your 'About us' page etc. The split test needs to be run long enough to prove conclusively that one page is a winner.
Replace the lesser performing page with the one that's performing better.
Repeat the process again. Measure, change, review. The idea is to keep optimising your important pages to continue improving your website's performance.

The importance of finding a conclusive result
This is a scientific method of optimisation, relying on good accurate measurement and finding conclusive results that are statistically significant.
If your results are 50:50 - You don't have a conclusive result
If you don't have enough data to work from - You don't have a conclusive result
In order to collect enough data in the shortest amount of time, you need a reasonable amount of traffic to your website and a reasonable goal conversion rate to measure. You really want a conclusive result within a month. i.e. you don't want to be running a test for 3 years.
Split testing reports
The reports are a very important part of the split testing process. They need to make it very easy to accurately determine which page is the winner. As with any type of polling, it's necessary to know just how precise the results of the statistics are.
That sounds easy
You already knew that you should be optimizing your website, but the task seemed like a long, difficult and expensive process that only large international companies could afford to tackle.

The power of split testing lies in its simplicity and accuracy.
Case study - Happy baby vs Crying baby?
In the split-test example below, the effectiveness of a testimonial was tested using identical pages with only the accompanying photo changing. One page used a photo of a happy baby and the other a photo of a sleepy newborn. Regardless of which you think is the best, it is the power of split -testing that gives an un-biased and scientific result for use in improving the results to your website.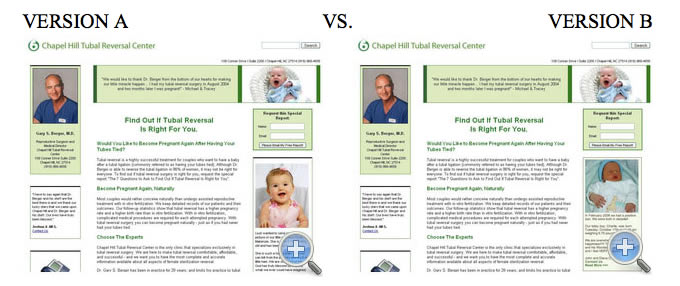 The answer may surprise you - the unhappy baby beat out the happy toddler by 12%!
There are large gains to be made if conversion rates are raised. Businesses can see massive benefits from testing then implementing improvements on anything from their homepage, call to action, or a product page to create more click-throughs. It is the ability to continually improve your website and have reliable stats to back it up that makes split testing such a powerful tool.
Where to from here?
Chances are you're so excited about starting to test your website that 10 different tests are floating around your head for your homepage alone! Be smart about your testing...
Come up with a plan! Decide what your end goal is (more email newsletter signups, increased click-throughs to product page, more sign-ups etc)
Pick an element to test. For inspiration read some case studies of other successful tests. http://whichtestwon.com/ is a fantastic blog that lets you see real tests and guess which version of a page improved results.
Setup the test. You might need to get new photography, graphic design or new copy written. This step takes time so its important to have a solid plan and stay motivated.
Run the test! Depending on your sites traffic it may take awhile before you have conclusive results. We recommend at least 1000 unique visitors before starting a new test.
Repeat the process again. Measure, change, review. The idea is to keep optimising your important pages to continue improving your website's performance.
Split testing tools
To conduct split tests you need a great tool that is:
Easy to setup
Accurate
Easy to understand - great reports that make it obvious which page is the winner
Able to measure all the important goals of your website
There are a number of split testing tools available:
Split Test Accelerator - $891US
Split Testing Pro - $147US
LinkTrackr - $227US p/year
Affiliate Prophet - $97US
Google optimiser - Free
Zeald experiments tool - Free (with any Zeald website)
If you aren't testing, how do you know if you are making changes for the better?