Overview
When we redesigned the Zeald website, we wanted to test a radical redesign. We wanted to convey our company's USP, which is 'Smart Results Online' - helping you achieve amazing results online.
We realised that many other webdesign companies boast this same USP these days, so we wanted to prove that we are ahead of our competitors in this regard, and for a number of reasons. We wanted to let people know that we were the best at it, and we believed that we, unlike our competitors had the proof to back it up. But it is a bold claim and we realised that in New Zealand this could be a problem with the Tall Poppy Syndrome - so what better way to find out than to TMT it.
Hypothesis
Since it was not possible to test an entire page with Google Optimiser and also test multiple conversion goals, Google Optimiser was not going to work for us. So we had our R&D team build a new Add-on module for our websites, which our TMT consultants can use to very quickly and easily to setup and measure accurately, split tests such as this.
This is very important because it allows us to test our primary conversion goal to see if we improve the conversion rate, however it is just as important that we also know how our other conversion goals are impacted. For example we might find that we increase our primary conversion goal by X% but jeopardise our others and cost the company significant business.
Google Optimiser doesn't allow this kind of reporting on multiple conversion goals.
The Experiment
Because we rely on our Zeald website for a large percentage of our business leads, it was risky for us to launch a radical redesign and risk losing a large percentage of sales each month. So we restricted the views of the new design to just 10%.
The Original (the Control)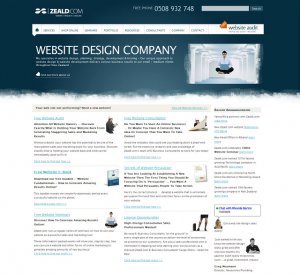 Test 1
In this homepage, we wanted to push our portfolio as we believed that many of our potential customers are more concerned about the design and are not aware of all the other elements that make a successful website.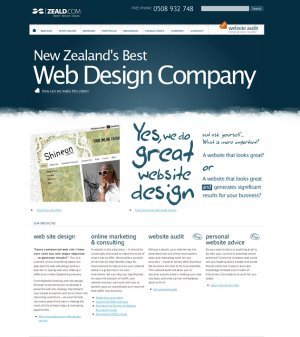 Results
| | | |
| --- | --- | --- |
| Tests | Conversion Goal 1 (% change compared to original) | Conversion Goal 2 |
| | Original screen | Original screen |
| | 30.7% decrease compared to original | 10.6% decrease compared to original |
These are the results we had from our first test of the split screen, which was tested without any back up pages. We will be running a second test with a back up article to see how it impacts the results.
Check back soon for our test 2 results...