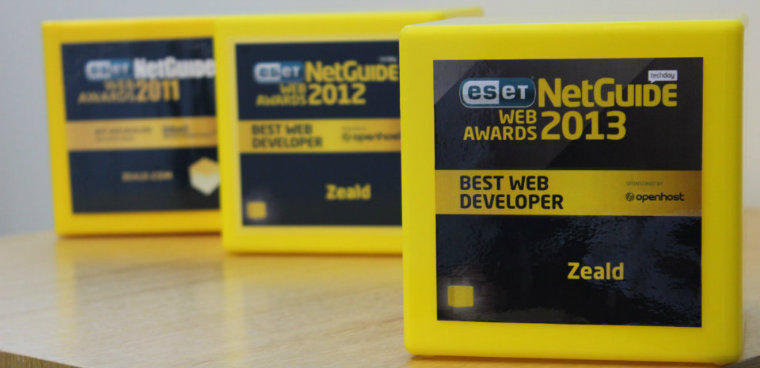 New Zealand website company, Zeald, received the Best Web Developer award for the third year in a row at the ESET NetGuide Web Awards 2013.
The awards were held last evening at the Hilton Hotel in Auckland, and were presented by popular comedian Urzila Carlson (7 Days), who kept the crowd entertained with her laugh-out-loud humour and quick wit.

Following on from their win in 2011 and 2012, the team at Zeald couldn't be happier to be publicly voted the best web developer again for 2013.

"A HUGE thank you to everyone who got behind Zeald in the NetGuide awards! Last night we won the NetGuide Best Web Developer and we couldn't be happier. Thanks again!"

Now in its 15th ceremony, the NetGuide Web Awards involves 27 categories in which you can vote for New Zealand's best website. This year NetGuide received over 290,000 public votes.

The 27 categories range from Best Social Networking Page to Best PC Manufacturer, catering for all and covering a wide spectrum of Kiwi talent online.
The winners in all categories were:
Overall: Grabone.co.nz
Best Real Estate Site: Trademe.co.nz
Best Financial Site: kiwibank.co.nz
Best Entertainment Site: tvnz.co.nz/video
Best Employment Site:Seek.co.nz
Best Blog: Whaleoil.co.nz
Best Mobile App: BNZ Mobile App
Best News Site: Stuff.co.nz
Best Site for Gamers: Mightyape.co.nz
Best Web Developers: Zeald
NZ's Favourite Social Networking Page: GayNZ
Best Online Forum: Geekzone.co.nz
Best Site for Small Business: Xero.com
Best Trading Site: Trademe.co.nz
Best Sports & Recreation Site: AllBlacks.com
Best ISP: Vodafone
Best Lifestyle site: NZDating.com
Best Shopping Site: Grabone.co.nz
Best Online Fundraising Initiative: givealittle.co.nz
Best Mobile Network: 2Degrees
Best PC Manufacturer: HP
Best Site for Students: studyit.org.nz
Best New Launch, Relaunch or Innovation: GoBook.co.nz
Best Site for Families: WhatNow.tv
Best Government Site: ird.govt.nz
Best Site for Travellers: Grabone.co.nz
Best Homepage: google.co.nz