Winners: Best Web Developer for the second year running!
Zeald were awarded first place in the 2012 ESET NetGuide Web Awards for the Best Web Developer category sponsored by openhost.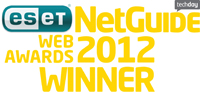 The awards were presented last night in good spirit, courtesy of MC comedian Steve Wrigley, at the Hilton Hotel in Auckland.

Zeald's Marketing Manager, Evan Cooper, accepted the award on behalf of the Zeald team. "We are really happy and grateful to win the Best Web Developer award for two years in a row. We strive to help small and medium sized businesses realise their online potential so receiving this kind of public accolade is the best kind of feedback."

This is the second year that the

website design company

has received the award, following on from their win in 2011.

Winners from other categories included: google.co.nz, 2degrees, kiwibank.co.nz, mightyape.co.nz, allblacks.com, youtube.co.nz, stuff.co.nz, seek.co.nz and trademe.co.nz.

After weeks of public voting, Netguide presented 27 of their infamous yellow cube trophies to the lucky recipients at last night's ceremony. "With over 225,000 votes cast this year, the awards have been a huge success again" said NetGuide publisher Sean Mitchell.

Zeald wish to thank all their supporters and those who voted for them in the 2012 ESET NetGuide Web Awards.